About Us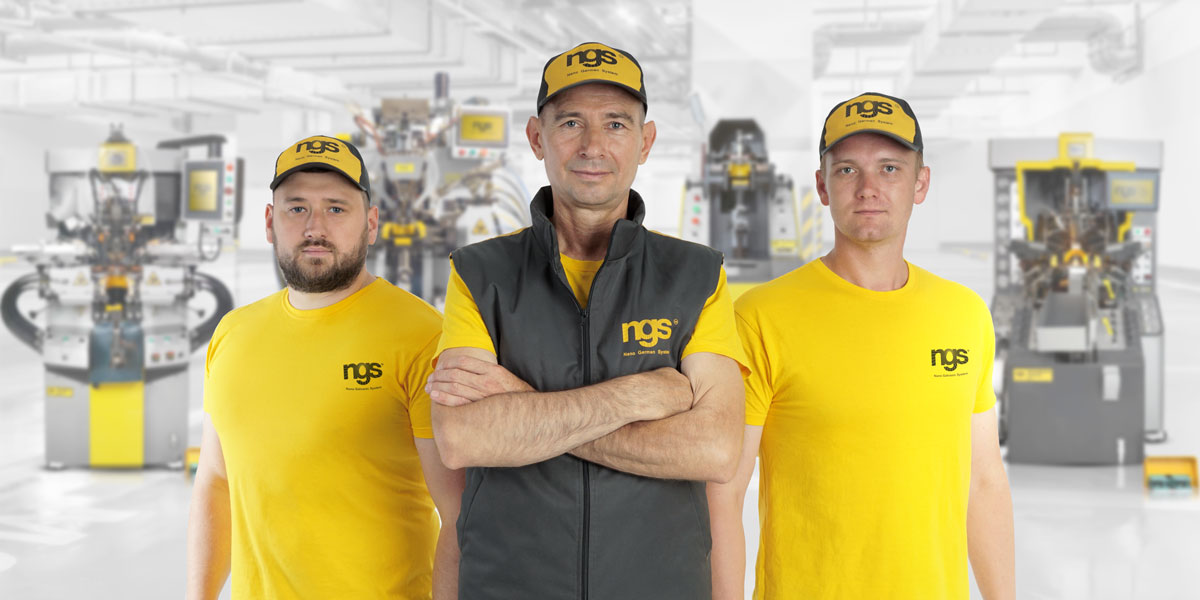 Up to 5 years warranty
One of the main advantages of NGS company are warranty periods and service maintenance of equipment for the production of footwear and leather goods. We provide standard 1 year warranty for all purchased equipment, as well as extended warranty for 5 years, depending on the NGS service provision.
Warranty maintenance of equipment for the shoe and clothing industry from NGS includes commissioning and troubleshooting (parts replacement).
You can always get the necessary advice and fast support from the specialists of our company.
The NGS service center provides the following services for sewing, shoe and leather goods manufacturing equipment:
expert advice on the proper operation of machines;
checking condition of machines for the manufacturing footwear, clothing and leather goods;
troubleshooting equipment during the warranty period, by NGS specialists using original spare parts.
The spare parts and consumables range of NGS - is more than 1000 items that are made of durabble materials, which makes them lasting and reliable in operation.
All equipment for shoe, leather and clothing production, which is offered by NGS, undergoes thorough tech control and testing in production processes.
Reliability and durability of our equipment is due to the high technical characteristics, the main of which are: high-quality metals with anti-corrosion coating, painted with hammer enamel. All these components provide durability and stability of the equipment for making shoes, clothes and leather goods.
The equipment for the production of footwear and leather goods industry, which is offered by NGS, includes only high-end components:
Pumps from Italian manufacturers;
French refrigeration compressors;
modern Japanese electronics.
The warranty service of the NGS service center does not cover the following types of problems:
integrity violation of the warranty seals;
mechanical or other damage (natural disasters, natural phenomena, failure of electrical networks, exposure to liquids, dustiness, foreign objects getting inside the body, etc.);
unauthorized opening, repair in third-party organizations, or changes in the scheme or design of the equipment;
emergence of malfunctions as a result of the instructions violation, as well as the untimely replacement of consumables.
Warranty also does not cover:
materials and parts that are rapidly wear (filters, heating elements, etc.);
natural wear or exhaustion of resources.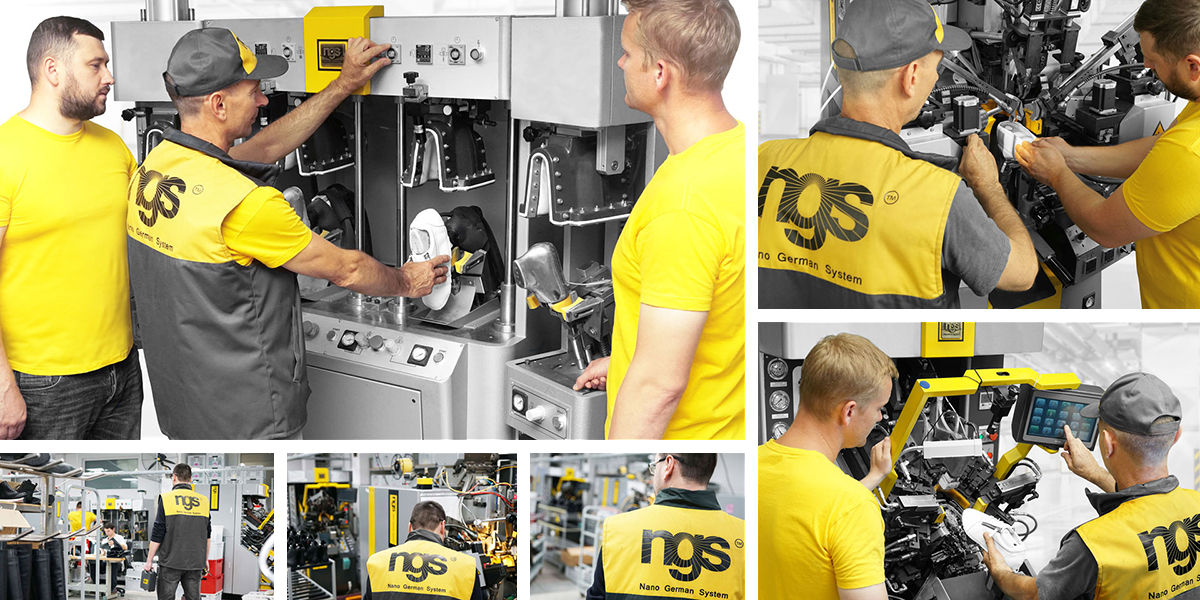 Free education
Having a good tool in your hands is not the key to successful mastering it.
One of the key features of the NGS company is fast tech support and advice from our technicians. We also provide the opportunity to undergo free distance training in setting up equipment and working with it:
training in setting up sewing machines;
training in setting up machines for shoe production;
training in operating shoe making equipment;
training in setting and operating equipment for the production of leather goods.
When purchasing equipment for the shoe, clothing and leather goods industries, NGS experts provide comprehensive training in manufacturing processes, thanks to which an employee who has no previous experience can freely operate the equipment.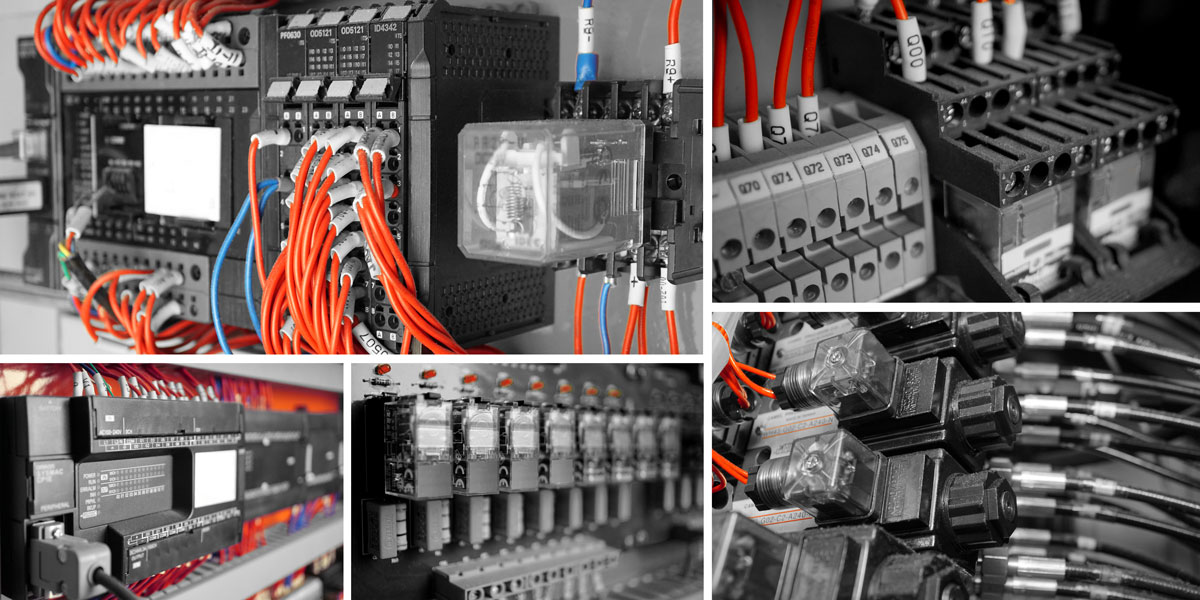 Electronic components of Japanese manufacturers
An important factor in equipment operation for shoes or leather goods production, as well as sewing machines, is the reliability and uninterrupted functionality of each machine.
Shoe equipment package from the NGS company comes with high-tech electronic components of Japanese manufacturers. Buying industrial sewing and shoe NGS equipment you can be sure of successful and stable operation of your manufacture and the timely production of quality goods.
Working with NGS as a reliable supplier of equipment for shoe production, you will increase the efficiency of processes and speed up production at all stages of footwear manufacturing.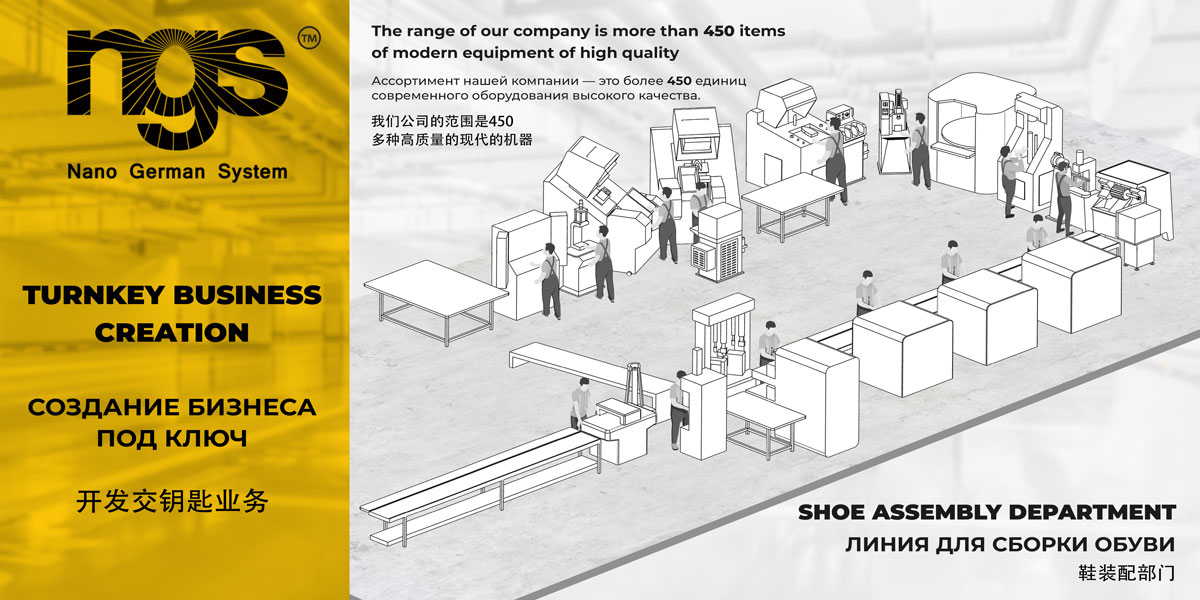 Creating a turnkey business
NGS company offers you a unique high-quality equipment for the production of footwear, clothing and other products of the leather goods industry.
In addition to equipment supply and installation, NGS provides a full range of services, including the training and implementation of your turnkey business.
The range of our company is more than 450 units of modern high-quality equipment.
We provide a wide range of high-tech machines that will ensure reliable and high-quality production of components for shoes and many other types of accessories for the leather goods and clothing industry.
Thanks to the diverse range of equipment that our company provides, you can successfully complete both a large-scale sewing production and a small enterprise in the form of a workshop or studio.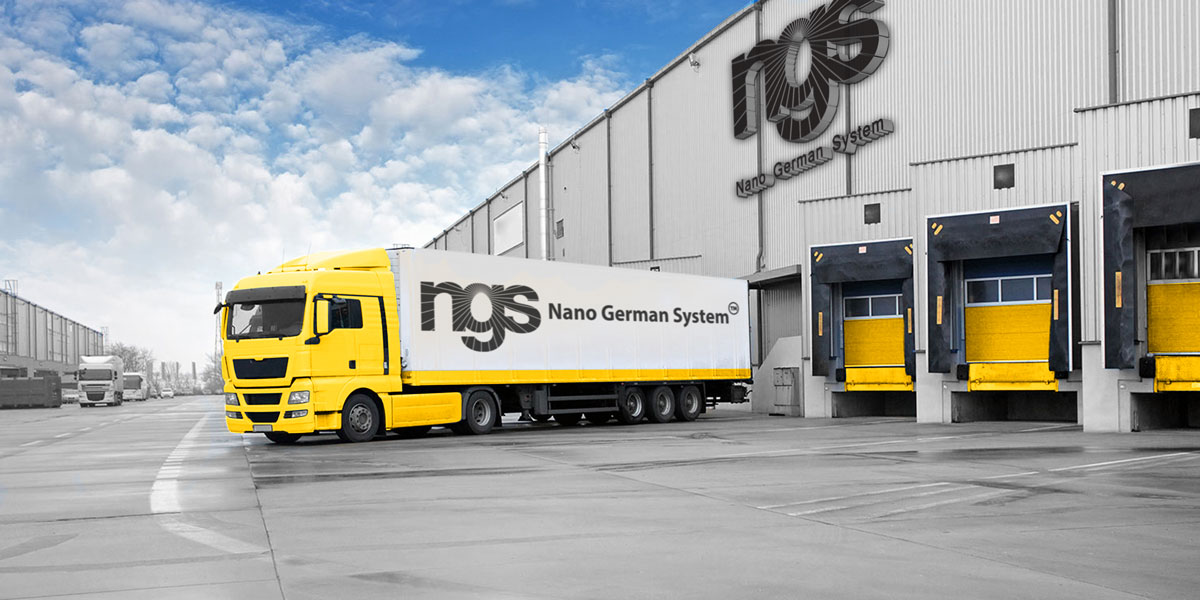 Delivery
Delivery of shoe, sewing and leather goods equipment of the NGS company is carried out directly from the factory or from the nearest dealer.
There is large range of equipment in stock that will get you the necessary quantity in the shortest possible time.
You can organize the delivery of NGS equipment by yourself in any way convenient for you: through your carrier or from the warehouse of the nearest dealer.
ll questions related to the order or delivery of equipment you can ask the managers of our company.